STARTUP REVOLUTIONIZES AND EMPOWERS THE HUMANITY WITH THEIR INNOVATION, FOOD PRINTER.
Startup proudly announces on the 82nd birthday of Ratan TATA.
I don't have time for kitchen – a homemaker
I don't know how much to feed my children: a parent
I don't know how to track my old parent's food intake and their health in turn: a son
We always depend on our maid or restaurants: a family
I need a freedom of food choice: everyone at home
I want to preserve my mother's recipe: a daughter/son
I want my daughter lead a happy, empowered, equitable life after marriage: a parent.
Feeling of having hot food available anytime is great : working couple
I need to know the grandma recipe for handy remedies : all
I want my old parents to lead a dignified and less dependent lifestyle at home : a son
This sums up the challenge faced by millions of man, woman, children and elders at large in this world to meet their day-day requirements of food.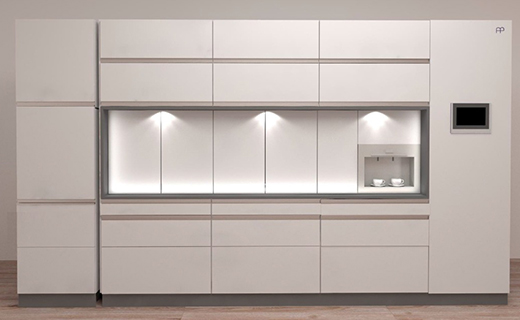 NOVEL …… INNOVATIVE………… - DR. MYLSWAMY ANNADURAI, MOON/MARS MISSION DIRECTOR, FORMER DIRECTOR, ISRO
Food Pinter(FP) is a Novel … Innovative…product ' according to Dr.Mylswami Annadurai , Moon/Mars Mission , Former Director of ISRO after witnessing the POC demonstration. The prototype demonstration saw the likes of Dr.Mylswami Annadurai and other delegates who all appreciated the application and benefits to society at large.
Disruptive concept Food Printer
Food Printer is a SMART HOME product to disrupt the future of cooking and eating pattern of the whole world. Food Printer is a multi cuisine/multi-food automated machine suitable for home users with small to large family members. More than that, the system is powered by IOT and cloud storage to have connectivity to external power users and experts across the world to upload and download recipes or to seek consultation for diet and nutrition plan for various day to day requirements.
Frankly, in terms of capability and capacity, it is far advanced than its peers and there is no parallel to this so far in the market.
GAME CHANGER….. STATE OF THE ART DISCOVERY …. BRINGS SMILE ON EVERYBODY'S FACE - SIVAKUMAR G, MARKETING STRATEGIST
Ideation Background
By 2015,  Satheshkumar, when have just overcome the insurmountable life threatening IBD after 8years of relentless fight with the body and mind, decided to give back something to society that no other shall suffer that sort of trauma erasing golden years of life of an individual. It could be any of the cause like wrong food choices or lack of work life balance or imbalance in nutrition value that invites trouble and the Quality of Life of the individual is the first toll taken in the whole game.
Satheshkumar after much thought processes decided to automate the food processing at home to enhance the quality of life as a solution to the needy community to lead a healthy quality of life.
Champion of Social Causes
Though it is beneficial to enhance the quality of life, but there is more to it.  There are other social issues connected with food in general. While further study, empowerment of women as being treated as kitchen workforce, lack of equality of women, freedom of food choice, disconnect from traditional recipes, challenges to raise kids with healthy food choices and self respect with dignity for elderly are some which are common issues across the society and imminent to be overcome. It forms a perfect business case as well that the solution to automate the food processes at home to enhance the quality of life also has merit to champion social causes.
IT IS A REVOLUTION…. – MAHENDRAN A, FORMER DGM, ASHOK LEYLAND
A 'Never Before' Complete Solution
Fully automated food making is good, but is that just good enough or a shallow solution to a larger problem?. The home maker looks for a complete solution. What is that 'complete' solution? Nagaveni S, Co-Founder also doubles up as home maker explains that the solution needs to cover all other activities like planning, preparation, managing inventory, delivering and maintaining it clean. These are all important factors to save 95% of kitchen time at home for the home maker to consider it has value. An end-end automation of kitchen processes at home, in reality, no one has vouched yet. Satheshkumar was looking for a 'never before' solution in other words.
Satheshkumar S, Founder with Dr.Mylswamy Annadurai, Moon/Mars Mission, Former Director  ISRO
Eureka moment
Satheshkumar a corporate automation engineering professional, who consults international clients on process automation design strategies, passionate to empower people, decided to put good use of his experience and knowledge. A rebel himself often called never accepts something impossible and it is just that we don't find the way yet according to him. He decided to surmount this insurmountable the way he did for IBD.
Being a qualified automation systems engineer, over two decades worked in various countries,  conceptualized Food Printer by 2016 and founded the company of the same name alongwith Nagaveni S. Since then it is a nerve wracking journey where no one has set foot or ever thought of it before in India or elsewhere in this world of this magnitude the possibility of prototyping a system which makes 3 times meal a day on any cuisine around the world. Nagaveni has brought the much needed domain and admin expertise which was a blessing.  It is a journey to find a 'never before' solution which was later christened as 'Food Printer'.
I HAVE NOT SEEN ANYTHING SOPHISTICATED LIKE THIS AND SO SCALABLE - NELSON CHO , FORMER MD , SEMBCORP, SINGAPORE
Initially, people recognize the need of  such solution but wary of the feasibility due to complexity of all these maneuvers at home. While consulting with a Chef, it was dawned on that the Indian cuisine is the most complex in the world. Over a period of further feasibility study of Indian cuisine processes, Satheshkumar has nailed the conceptual design and patented by 2016. Since then, a journey of an entrepreneur began like a blindfolded navigator. It required enormity to build the team, resources identification, technology selection, build a business plan, lead the technical and commercial team, selling the idea and build business cases.
What ensued was beyond thoughts and IBD was easier to overcome comparatively. After It took 4years of relentless efforts by FP team i.e. over a  Million manhours spent in that span of 4years on cracking the processes and technical challenges, by November 2019, the prototype has come to a functional level.
Values and Ethics
During this four years of entrepreneurial journey, Satheshkumar, armed with Executive management qualification from MIT Sloan/Columbia, previously worked in a TATA group enterprise, set the highest standards of work ethics and standards by emulating the likes of Ratan TATA as inspirational role model.
Satheshkumar explains that the product needs to be identified with empowerment, values and ethics of high standards. It is quite natural and fitting that a high impact magnanimous product which empowers people from all walks of life is dedicated to the world when Mr.TATA turns 82 years young as Mr.TATA himself is the champion of the causes.  This shall give sense of purpose and stay us on course for a startup like FP.
It is a dream come true after a relentless journey from obscurity to significance for the Founder Satheshkumar who currently engage in fund raising and scaling it to next level of marketable model.
IT WAS AWESOME DEMO.. TASTE IS GOOD.. UNLEASHED ITS PROWESS… REVOLUTIONALISE THE WAY OF LIFE.. – G.SASIKUMAR, ADVOCATE, DESK LAW
What FP does?
Of course, it revolutionizes the lifestyle of the home maker, but there is more to it.
FP effectively replaces the time and effort of the home maker to prepare a beverage, breakfast, lunch, snack and dinner of choice to nourish and savour the palate.
FP can take instructions from the home maker from remote locations connected through cloud without being physically present in the kitchen at home.
REVOLUTIONARY PRODUCT…. EMPOWERS MANY – GITA CHENGAPPA, GM, TREC STEP
Going a step further, FP is equipped with an intelligent inventory manger to alert on the provision stock, as well as, to clean the vessels post cooking through an automated process and present the cooking kit fresh and gleaming for the next session of cooking.
FP team apart from the strong human capital on technology, is supported by renowned domain experts comprising of chefs, dietitians, nutritionists, life style experts, prominent home makers to develop and upload a plethora of recipes in the cloud for the end user to pick and choose his or her recipe of choice to make the meal subtly replacing, what was prepared manually by grandmothers' over the ages.
The food related data like recipes, nutrition plans, diet plans etc.. available online or print media are the primary source of food related information and how much the intelligence is converted into practical solutions for the user is a question mark. Satheshkumar builds a cloud based ecosystem where all professionals like Chef, Nutritionists, Dieticians or Amateurs, Power users, hand remedy providers shall come to a cloud based platform to exchange to benefit the common man. In FP, the user shall interact live and consult and shall have a dedicated professional assigned all the time for the family wherever they are in the world.
Personal diet and nutrition function shall suggest set of recipes based on health profile of individuals at home. Professionals like Dietician and Nutritionist would be a click away for consultation.
It is a disabled and elderly friendly which opens up lot of possibilities towards attainment of dignity and self-respect for them.
It will be a gift to any daughter or son when they start their marriage life…
I WILL GIFT TO MY WIFE WHO HAS BACK PAIN… , RAJKUMAR ANAND, CORPORATE PROFESSIONAL
Rajkumar Anand , Corporate professional having worked in a Temasek group company in Singapore wants to gift this to his wife who has back pain which prevents her to stand in the kitchen for a longer time. Similarly, many want to gift to their old parents and configure to track their food intake daily wherever they are in the world and benefit out of alert management system. Potentially, the FP shall mend the relations better than any other product, make the world within reach and leverage the capacity of communication avenues for the betterment of common man.
PRODUCT HAS THE POTENTIAL TO REVOLUTIONALIZE - ABRAHAM, KAG FACTORS, CORPORATE ADVISORY SERVICES
Target Market
The product is targeted primarily at the working couple who are with multiple responsibilities are stressed for time & aged parents in India of NRI's as end users.
All elderly couple staying away from their children would be another target segment as certain features would be designed to meet the elderly people.
Through strategic tie ups, we are also planning to bundle this product with the apartment B2B builders segment in up scale metros besides B2C through white line goods outlets.
Competition Analysis
It is a novel and innovative product upcoming and potential to reap the rewards as first mover. FP shall be available in the market by end of 2020 with multiple variations to suit the home needs. Company plans to align the product launch with Mr.Ratan TATA's next birthday as a challenge.